October 5th, 2014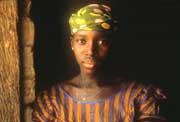 "Art Is The Vehicle To The Cosmos!"

This profound statement was pronounced on the 5th weekend by the course leader in a 5-month course about humanity (called The Wisdom Course) in which I participated several years ago in New York/New Jersey.

For me, and my relationship with photography, the camera has been a "tool of accessing intimacy" with myself and my world. Things I never knew!
It all began on that first day with an old Pentax camera. Central Park 1970. I have been a photographer ever since.

This photograph was taken in 1988 in Nigeria during a commissioned assignment by a large corporation. They were interested in my documenting their philanthropic contributions to several nations in West Africa. The ease of intimacy of this picture-experience with this young mother gave me a wonderful insight into myself. The photograph was taken at close range (only a few feet). That close intimacy opened a door to my seeing and experiencing humanity in a different, enlightend way which impacted my picture-taking from that point on.

How has "Art is The Vehicle to The Cosmos" impacted your life?